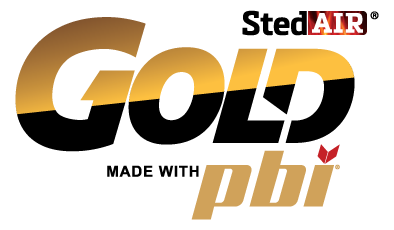 The Ultimate Moisture Barrier Infused With PBI®
Stedfast is proud to introduce the most innovative moisture barrier available to the Fire Service worldwide. Stedair® Gold is a premium moisture barrier that provides outstanding protection and enhanced durability to Firefighters. This innovative product has been developed to combine the best technologies available in order to provide increased protection and outstanding longevity to Firefighters.
Stedair® Gold is designed with a woven PBI®/Nomex®/Kevlar® pajama check substrate and an enhanced bi-component e-PTFE membrane. Combining these technologies allows us to provide higher moisture barrier durability along with increased thermal stability which translates into better protection for the firefighter. This moisture barrier shall meet and exceed all requirements of NFPA 1971-2018 edition, which includes water penetration resistance, viral penetration resistance, and common chemical penetration resistance.

Performance Advantages:
Great

durability

Increased

heat protection

Superior

flame resistance

Improved

bursting strength

Lightweight

comfort

Warranty

backed by our best 7 year warranty


STEDAIR
®

Gold Product Benefits:
Exhibits passing results after 10 wash/dry cycles at 140° F
Remains waterproof to a minimum of 1 PSI after exposure to -4°F
Attains a hydrostatic resistance of no less than 150 pounds per square inch
The best combined THL and TPP in the industry


STEDAIR
®

Gold Chemical Protection:

STEDAIR® Gold provides superior protection against blood borne pathogens, toxic industrial chemicals (TICs), toxic industrial matter (TIMs) and other harmful chemicals:
Blood-borne pathogens
Battery Acid
Hydraulic Fluid
Gasoline-Fuel C
Aqueous Film Forming Foam (AFFF)
Chlorinated Water
Available in Portuguese : Stedair® Gold
SPECIFICATION
Warranty Information
Stedfast is committed to the North American Fire Service, being the first in the industry to back its moisture barriers with warranties.

Stedair® Gold - Stedfast is pleased to introduce a 7 year warranty on Stedair® Gold. This moisture barrier is constructed of a 2.8 oz woven pajama check laminated to an enhanced bi-component membrane. This membrane will be comprised of an expanded PTFE (Teflon®) matrix with a highly engineered polymer coating which translates into outstanding durability. Stedair GOLD consistently delivers industry leading TPP (thermal protection) and a very high THL (total heat loss.) Stedfast is clearly making a serious commitment to the North American Fire Service.

For complete warranty details STEDAIR® GOLD Warranty